The Apple Watch is one of the many devices that can make your life more efficient. There are a number of productivity apps that can help you track your habits, create to-do lists, stay focused, get reminders, or take notes.
One aspect of smart time management is not doing large-scale tasks when shortcuts are possible. To save you time searching, below you'll find a list of the top five Apple Watch apps for productivity.
Todoist
Todoist is one of the most popular task management apps. It allows you to add, schedule or reschedule, track and complete tasks from your wrist in a simple and elegant way.
Thanks to this application, you will always be aware of the tasks you need to complete during the day. You can view them with a view or main view. Its use is very convenient as you don't always want to carry your phone or laptop.
To make your life easier, Todoist has a quick addition with voice commands. This means you can instantly create tasks by dictating them to your Apple Watch. In addition, you will receive buzz reminders and notifications so you don't forget to complete tasks on time.
Todoist is free to download and use, but you can get the Pro version to unlock premium features for $4.99 per month or $47.99 per year.
Get Todoist: To-Do List & Planner on the App Store
Productive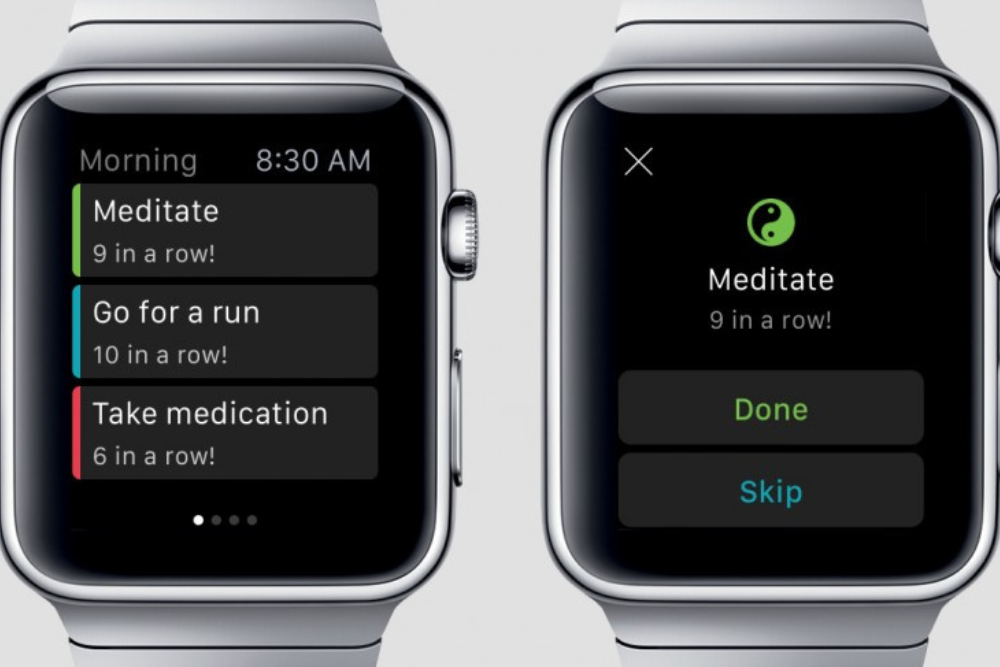 If you've ever wanted to introduce new habits into your routine, you know how challenging it can be without the right tools. We are happy to introduce the Productive app to help you set goals and track your progress to make your life happier.
Whether you want to exercise more often, wake up earlier, read more books, or start meditating, this app will help you achieve those goals by breaking them down into habits. For example, if you want to be healthier, the app will help you set how many liters you want to drink per day and track it.
To make the whole trip more fun and competitive, complete guided tasks and compete with other users. In addition, this tool gives you insight into your statistics so that you can analyze them and draw conclusions to improve your habits. Most of its features are free, but you can upgrade it with a one-year subscription for $23.99.
Be Productive – App Store Habit Tracker
Evernote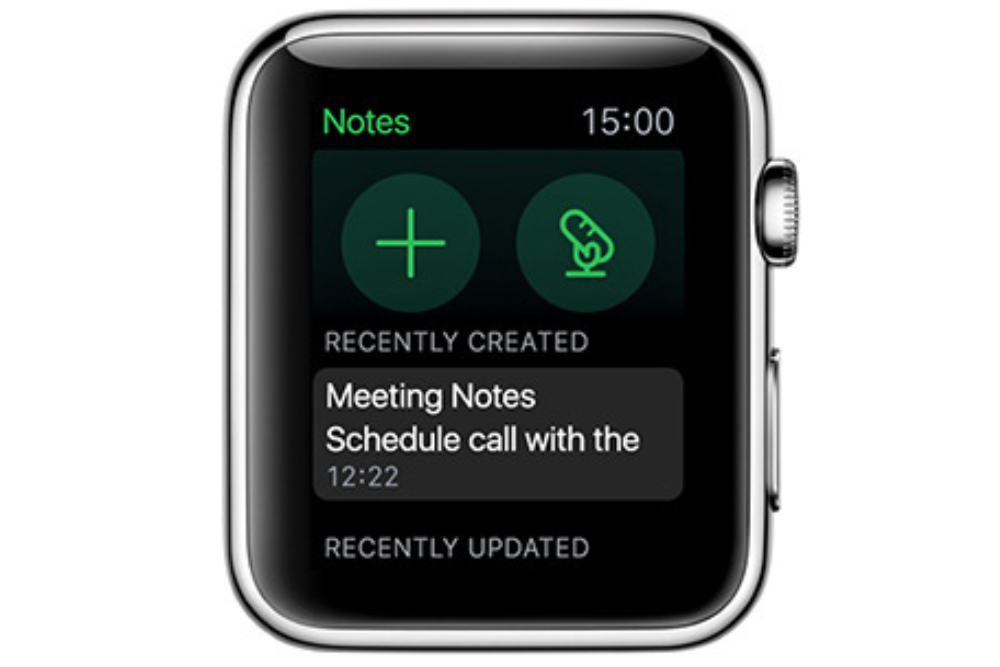 Brilliant ideas have one major problem. They fly away as quickly as they appear in our minds. So if you just thought of something, you need to have a tool that will allow you to record it before it disappears. And this is where Evernote comes to the rescue.
With Evernote, you can create notes, to-do lists or schedules and follow them right on your wrist. To be even more efficient, set due dates, reminders, and deadlines so that you always finish each task on time. There's also the ability to sync the app across all mobile devices and computers to keep you productive whether at home or on the go.
You can enjoy most of Evernote's features for free. However, by purchasing a premium subscription, you get access to additional storage space, the ability to connect the app to Google Calendar, and access your notes offline. The price of the package varies depending on your location.
Download Evernote – Notes Organizer on the App Store
Focus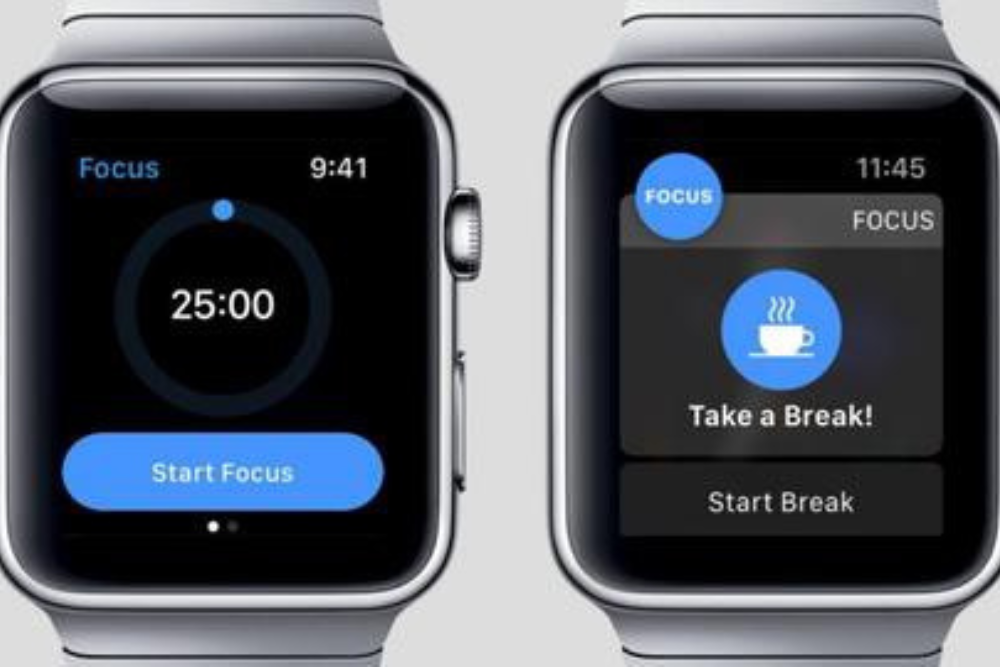 Getting work done can be very complicated when you are surrounded by many distractions. So, if you want to complete an important task without being constantly interrupted, download Focus.
This app, as the name suggests, allows you to stay focused while working or studying. It does this by using highly effective sessions. In short, between each session you are supposed to focus for 25 minutes and then take a short break to relax. After four completed sessions, he suggests a longer 20-minute break to give yourself time for a well-deserved rest.
It comes with a task manager that allows you to organize your tasks, focusing on doing just one task at a time. It also lets you see your stats so you can track your progress. Unfortunately, the app requires the purchase of a paid subscription for $7.99 per month or $39.99 per year. However, you can use it for free during the 7-day free trial.
Get Focus – Time Management in the App Store
Things 3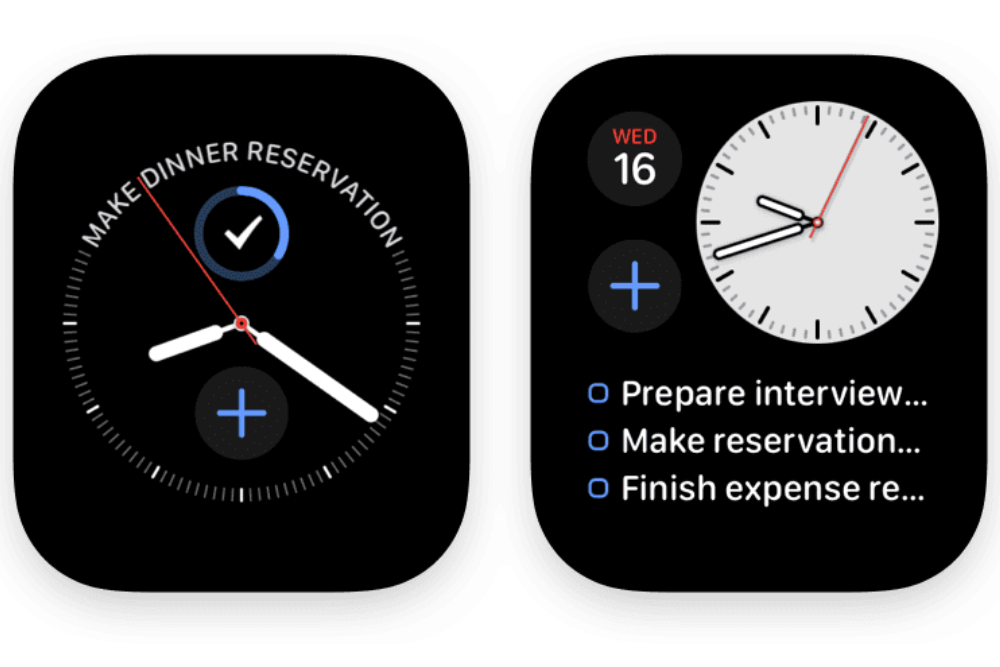 The goal of productivity is to have more control over your life. By completing tasks efficiently, you feel calmer and gain time to spend on the things you enjoy. And that's why things 3 were created.
This app helps you organize your tasks smartly so you can complete them without feeling anxious and focus on what's important to you. Build your to-do lists by adding notes, breaking down tasks into smaller steps, and scheduling them so they meet deadlines. You can also create areas for many areas, including family, health or finance, to see the bigger picture and better navigate your life.
Things 3 has many useful features like reminders, repeaters, bookmarks, quick searches, widgets and more. Use the 15-day free trial to see if this app is for you. After that, you can get a lifetime subscription that costs just $9.99.
Get Things 3 on the App Store
Get it done
Staying on track isn't always an easy feat, but luckily there are some tools you can use to help you reach your goals. Whether you want to be more organized, introduce new habits into your routine, create to-do lists, be more focused, or take notes, there's a productivity app on Apple Watch. Get one of five apps to help you get things done and gain control over your time!
Which productivity app do you find most useful? Comment below and as always share!
https://appadvice.com/post/best-apple-watch-apps-for-productivity/775965